DANANG GEARS UP TO HOST LEADERS AT APEC SUMMIT
20/12/2022
Trump, Xi and PM Lee among those attending, with free trade and growth topping the agenda.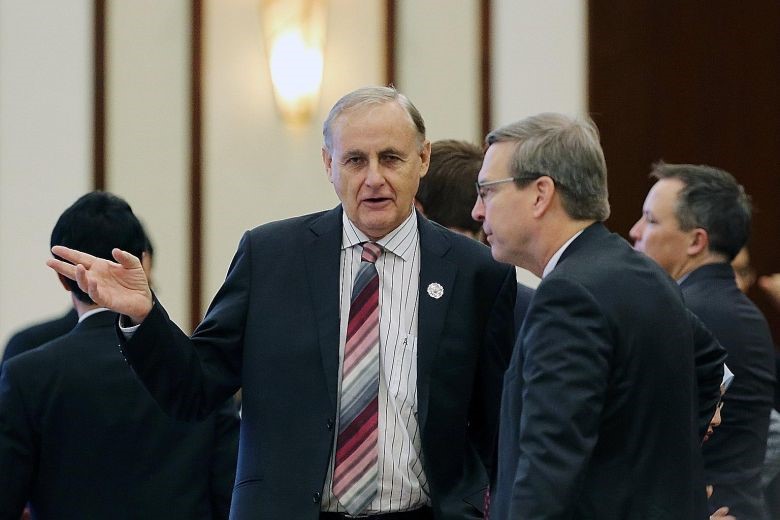 Dr Alan Bollard, executive director of the Singapore-based Apec Secretariat, said the summit is taking place at a "very complex" time, largely due to the many views on trade policy around the world
Famed for its tranquil beaches and verdant national parks, Vietnam's coastal city of Danang will be in the global spotlight this week as it hosts the largest gathering of world leaders in its history.
The likes of United States President Donald Trump, Chinese President Xi Jinping, Russian President Vladimir Putin and Singapore's Prime Minister Lee Hsien Loong will all be in Vietnam's third-largest city for the Asia-Pacific Economic Cooperation (Apec) summit.
Most of them will arrive on or before Friday, ahead of the official welcome ceremony and gala dinner to be hosted by Vietnamese President Tran Dai Quang. The leaders then convene at a plush resort hotel for retreat sessions and lunch on Saturday, where they will discuss ways to boost innovative growth and the new drivers of regional trade and investment, among other issues.
Established in 1989, the 21-member Apec bloc comprises Australia, Brunei, Canada, Chile, China, Hong Kong, Indonesia, Japan, Malaysia, Mexico, New Zealand, Papua New Guinea, Peru, the Philippines, Russia, Singapore, South Korea, Chinese Taipei, Thailand, the US and Vietnam. Together, they represent about 39 per cent of the world's population, 57 per cent of global gross domestic product (GDP) and 49 per cent of international trade.
This year's summit is significant as it is the first for Mr Trump, South Korean President Moon Jae In, Hong Kong Chief Executive Carrie Lam and New Zealand Prime Minister Jacinda Ardern. It is also the first overseas summit for Mr Xi after last month's Chinese Communist Party congress, and for Japanese Prime Minister Shinzo Abe, after his recent sweeping election victory.
Dr Alan Bollard, executive director of the Singapore-based Apec Secretariat, said the summit is taking place at a "very complex" time, largely due to the many views on trade policy around the world.
Vietnam has largely kept the focus of discussions on four broad policy areas - promoting sustainable and inclusive growth; deepening regional and economic integration; modernising micro, small and medium-sized enterprises; and enhancing food security, he noted.
"These priorities aren't exactly new, and they are similar to those of the previous Apec chairs, including Peru last year," said Dr Bollard, a former governor of New Zealand's Reserve Bank. "They remain important to this day, and we do need to have this sort of continuity from year to year to keep the talks going, as many of these issues are long term in nature."
As with all multilateral summits, there will be other pressing issues not on the official Apec agenda, but that will capture leaders' attention.
All eyes will be on the outcome of a Trans-Pacific Partnership (TPP) meeting on Friday, as the 11 remaining nations in the mega free trade agreement inch closer to finalising a deal. The US pulled out in January after Mr Trump took office. Even without the world's largest economy, Singapore and the other nations want to seal a deal aiming to eliminate tariffs on industrial and farm products.
The latest round of negotiations took place in Japan last week. The 11 countries have a combined GDP of US$12.4 trillion (S$16.9 trillion), with total trade reaching US$356.3 billion last year.
This year's Apec summit comes at a time when the region is fraught with tensions over a nuclear-armed North Korea. Mr Trump is scheduled to meet Mr Putin on the sidelines, with a primary topic likely how to stem threats posed by Pyongyang.
There are also question marks over whether tensions in the South China Sea could be raised, although officials from China and Vietnam have said they remain committed to managing the ongoing territorial dispute through friendly talks.
Dr Bollard said the media would "inevitably focus" on these issues, but there would not be any formal talks on them during the meetings.
"We're all very disciplined. We are going to be there for economic advancement, and that's the glue that's held us together for all these years," he said. "Having done a lot of good work for the past 20-plus years, we do want to prove that we are still relevant for the next two decades. There will be change. We might, say, spend more time talking about e-commerce or focus more on the inclusive economy, and so on."
Papua New Guinea will take the Apec chair for the first time next year. The 2019 and 2020 hosts are Chile and Malaysia respectively.
Source: http://www.straitstimes.com/asia/danang-gears-up-to-host-leaders-at-apec-summit